July 3
This morning started with a sunny smile. We packed up from our "side of the road" spot and rode a couple miles for breakfast from a restaurant. Getting tired of oatmeal the egg and cheese sandwich with French toast was a real treat.
Today we are on the Alaska Highway and will be on it until Fairbanks.
Leaving the restaurant after breakfast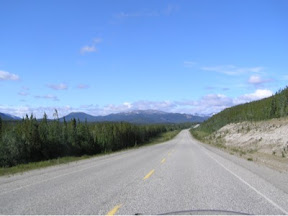 He spectacular views never ended the whole day. From one range to another, the snow capped mountains were with us the whole day.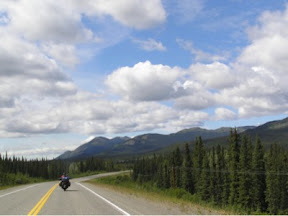 Then the construction started for 20 k's. From loose gravel to pavement Athens back to gravel. Speeds slowed considerably and dust was everywhere.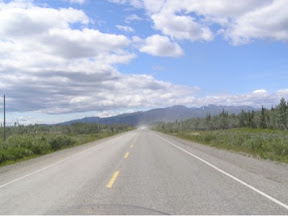 We pushed it as far as we could until the bikes decided to stop for fuel. Having planned for this, it was a welcomed break. W pulled off the road and added the extra fuel
Then we were back on t he road towards Destruction Bay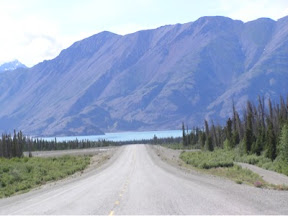 We were greeted by Kluane Lane and it's turquoise water at the base of a rocky mountain range. It was hugh and everywhere you looked was amazing. It required a stop...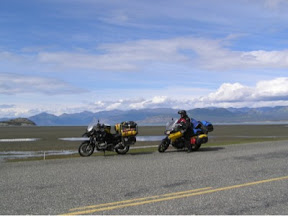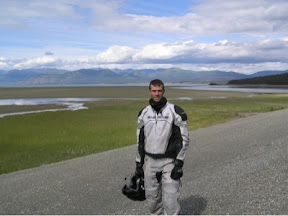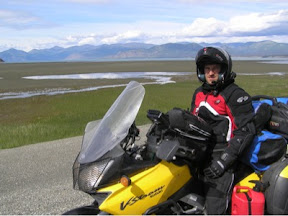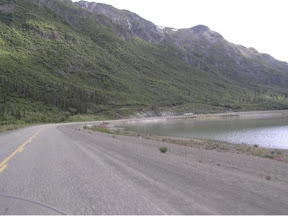 At our last gas stop for the day we were told that the road ahead was slow going with a lot of construction. We decided to stop and camp, get a good rest and tackle the gravel tomorrow. We found an old campground that seemed run down, but had a huge white tent on the grounds. No one was around and it seemed like a great place for us! With some rain approaching we parked our bikes inside a wooden enclosure nest to the tent and had supper. We will walk to a nearby lodge to have a $4 shower and use the Internet.
This ends day 9 for me. I have passed 5000 miles and am almost to Alaska.
Tomorrow we arrive at Fairbanks, change to our dirt tires and ride the long sought after Dalton Highway!