It was a dark and stormy night....the gusty wind blew me around like a cotton ball in a wind tunnel. Then it happened....
But lets back up a little but first....
this morning I packed up camp and pressed on for another 750 miles.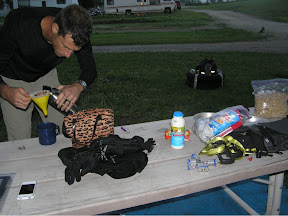 Making coffee with my patented camp drip-master
This is how I roll...
The rain continued to come and go but the gear I have kept me as dry as a bone. The wind howled across the Prairie lands, gusting upwards of 35-40 miles per hour at times. The wind was headed west, and I was headed north, so do some simple math and you will know how my morning went. At first it was really cumbersome, but after 300 miles, it sort of became Thor norm...UNTIL I HIT THE DIRT ROAD. But we're not there yet.
I had to make an alternate route due to the flooding in the Midwest. A local crop duster pilot gave a suggestion, and I headed cross country.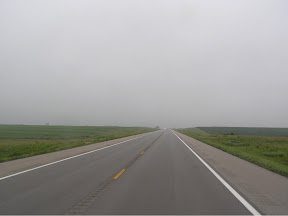 As I hit this line of precipitation, the temperature went from 70 to 55 in 3 seconds. It was so fast that I was a little taken back, and actually slowed down for a brief second. It continued that way for the rest of the day and I decided to put on the heated jacket..
Tell me something. If you were to see this long road in the middle of nowhere, would you expect a state trooper to be waiting at the end? Me neither.... Luckily my super fast instinctive reactions slowed the bike down. Then I realized the speed limit is 75.. That's what was doing in the first place.
During a break in the weather, I decided to stop and get gas. I met Craig and Joe from Chicago. They we're riding 6000 miles to California and back along the southern route. The nice gas station lady took this picture fair us
On the last stretch of the trip, I saw the dark and stormy clouds building and figured I'd be in another rain storm. As I approached the storm I saw an increasing number of lightening strikes. I don't care for lightening since I know what its like being hit in an airplane with one, so better judgement told me to pull over and I took refuge under an old gas station canopy.
One the lightening passed, I continued the last hour on to the badlands national park where I found a primitive campground I would use. As I reached the dirt road that would take me the last 12 miles, another storm came with more gusty winds. I had nowhere to take shelter so I continued on. The road had many loose rocks on it, and I didn't take the time to lower the air pressure in my tires. All of a sudden one gust came and sent me off the right side of the road. I didn't want to swerve back left lest I fall, so I gingerly worked it along the ditch, but it was too slippery and before I knew it, I dove off the side to avoid getting hit. The bike landed ini the ditch, and to add insult to injury, it started pouring!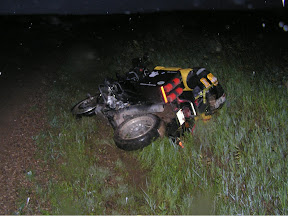 I assessed the situation and decided to use my ratted straps and winch the bike up over the little bank and maybe, just maybe I could lift it up. I removed all the stuff, and worked at it. After a little name calling and an hour and 45 minutes I used all the strength I had left and got it up on the wheels. Being the great bike it is, it fired right up and I drove it out to hard ground. I didn't want to ride anymore, so I set up camp right there by the road and waited to see what view I would have tomorrow....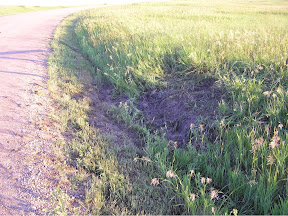 And of course the view!!